So far I have written about different wood carving knives and reviewed what were the best ones that I used. However, I recently discovered...
So far I have written about different wood carving knives and reviewed what were the best ones that I used. However, I recently discovered many benefits of using electric tools and now I am looking for the best power wood carving tools for my toolkit. Electric tools can be very useful if you are working on a big project and you want to remove big pieces of wood quickly. I found that with the best rotary tool for wood carving I can explore far more opportunities when creating something new. In this article, I will share my experience with the best electric wood carving tools I have worked with.
When I first got into wood carving, I really liked the idea to do something with my hands, and create beautiful things out of wood. I started out with chip carving knives, then learned a little more about spoon carving, and I have also tried many different whittling knives discovering that I really liked to use them for my wood carving projects. Power carving tools are a great next level, and they are great for beginners as well as professionals. They are not a replacement for my carving and whittling knives, but with a nice power kit I can do nearly anything – sanding, cutting, drilling – so much faster and with great precision. In this article, I am reviewing rotary carving tools for wood, and if you are interested in my reviews on wood carving knives, you can check out my other articles – What is the best whittling knife in 2020 and Top 7 Best Wood Carving Beginner Kits – Reviews and buying guide. I have also written my experience with knives for specific types of wood carving, like 5 Best Spoon Carving Tools (Hook Knives + Spoon Kits) and What are the Best Chip Carving Knives in 2020.
I am ordering my toolkits on Amazon, and what matters to me the most when reviewing the rotary tools is
The power of the engine – and duration of the battery for cordless tools.
The accessories that can be used with the tool – if it comes with additional tips for cutting, sanding, polishing, engraving.
If it is corded or cordless, as well as the battery life of the tool.
How the tips that come with the project can be applied – if it can do both rough cutting and smooth engraving.
How long it lasts. Some tools you can buy and use for many years and those are truly good investments. Especially if the product comes with a warranty by the manufacturer.
The price of the set – if it is affordable and if the price is proportional to the value itself.
Other features such as the case it comes in, if it's easy to store, if the motor takes little time to charge.
Ways to use your power carving tool
There are many reasons why you might need a rotary tool in your wood carving project. Sometimes they are great replacements for your classic knives, but on many occasions, they can achieve much more than you could hope for with a basic wood carving set.
Cutting
First and foremost, your power tools are an excellent substitute for your saws. You can cut through any woodblock, no matter how resilient, and without the risk of your blade breaking in the process.
Roughing
Power carving tools are especially good if you need to toughen up your work without investing too much strength. Create perfectly round or sharp shapes in a matter of minutes with the right bits for your rotary tool.
Engraving
With special tips for your tool and carefully selected speed of the motor, you can do detail carving and engraving with the level of precision you need. The tips of rotary tools are very convenient as they vary in shape as well as size, so you can reach challenging areas and work on minimalistic projects without worrying about making a mistake.
GOXAWEE Rotary Tool Kit with MultiPro Keyless Chuck and Flex Shaft
This toolkit is great for first-time users of rotary wood carving tools. It is easy to use and the motor is just powerful enough to help you feel confident when you are using it – it's not super strong so it won't wobble much in your hand. An awesome advantage of this toolkit is the number of accessories it comes with – 140 in total, which is super cool for the price it is available for. I bought it for less than $40, and it turned out to work rather well for drilling, cutting, and polishing. It has a three-speed option available, and a flex shaft attachment for additional stability when working on details. However, it is a bit of a gamble to buy the GOXAWEE Rotary toolkit if you are a pro, and expect something that would last long. The engine heats up much faster than the other power carving tools, and the rotary tool bits can easily wear out.
Flex shaft enables a lot of control for delicate work.

140 different accessories that are easy to swap.

One of the cheapest toolkits on the market.
Not the most reliable tool, it could break easily.

The engine heats up fast, so it's not fit for durable use.
To Sum Up
I can honestly recommend a flexible shaft power carver for beginners who are just starting with their first carving project. All things considered, this is probably the best tool you can buy for that money. It can be a bit risky, and you are not promised the motor will last long or that the flex shaft attachment won't get loose, but if you are not into spending much money, I'd say go for it.
Dremel 8220-1/28 12-Volt Max Cordless Rotary Tool Kit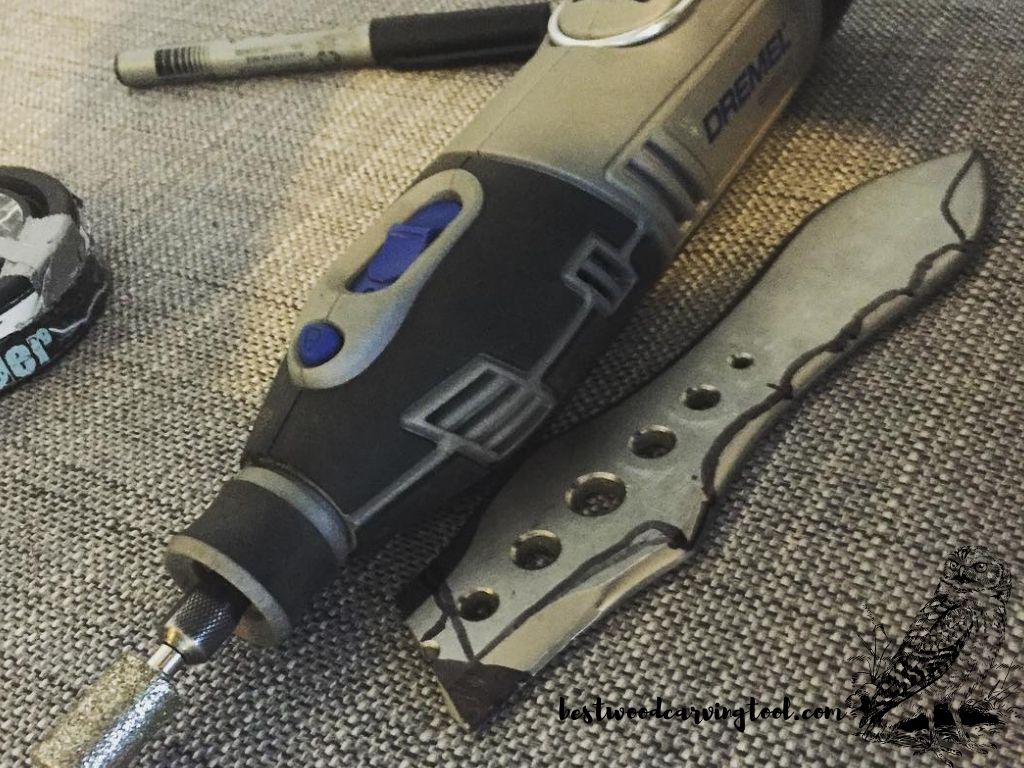 Dremel power carving tools are by far top-notch among the competition. Many people who try Dremel never switch to another manufacturer again. When wondering what is the best Dremel tool for wood carving, the choice is quite difficult. Here, I'm reviewing my two best picks, that left me speechless. This tool comes with 2 attachments and 28 accessories, and it has presented itself really well for both hard and soft wood – with the right tip, I can engrave, polish, or cut any type of wood that I choose to work with. It is cordless – battery operated – which means I can do my work outside and wherever I desire. The battery is durable, and it only takes an hour to charge. Also, what I really like is that the battery will last if I don't use it, and I can just pick it up after a week of not-using it without charging it again. The tool itself is a bit heavier than the corded ones, but that's something I got used to in a few minutes. Dremel wood accessories are also compatible with a lot of other manufacturers – their standardized sizes can be useful even if you buy another toolkit after Dremel.
Cordless tools are way better than corded ones.

The long battery life allows me to work with it for a long time and the battery feels like it will last forever.

Good for all types of wood, so I can use it for any project.

The two-year warranty.
Pricey. It costs more than other tools on this list, but Dremel is fairly irreplaceable.
To Sum Up
The only reason for not buying this Dremel is if you won't like to invest around $100 for a good tool. However, if you are into wood carving with rotary tools, it is definitely worth investing money into a good machine that will last you for up to 40 years, and never having to buy another machine for power carving.
WEN Variable Speed Lithium-Ion Cordless Rotary Tool Kit
I wanted to try something other than Dremel, and see what the other cordless tools perform like. I discovered this toolkit on Amazon, for under $30, and decided to give it a chance. This WEN tool has a lot of advantages, now that I think about it. It is cordless, with 6 power speed options, able to carve for up to 3 hours. It comes with 24 pieces of accessories, that enabled me to achieve great precision for a particular project. It also has a flex shaft, which is a great advantage. Comparing this tool to the previously reviewed Dremel, this one is a little quieter, lightweight, and it is very enjoyable to work with it. The downside is that I cannot expect it to last long, to be honest, at least not as long as Dremel tools. However, under this price, it is a worthy purchase.
Cordless, plus it comes with a flex shaft.

Quiet, light, easy to use.

Super cheap for what it can do.
There is no standard warranty for all WEN products, and it isn't the most durable tool on the market.
To Sum Up
As the advert says, this truly is the best tool you can buy for $30, it is the cheapest greatest investment. It is a good cheap replacement for Dremel cordless toolkit, in some ways even easier to use than Dremel, and a little lighter as well. However, it is a gamble if you are looking for the tool that will last you forever – you can get really lucky with this tool, or have the charger die on you within the first year. I'm looking forward to finding out how well is mine going to work after a while.
Dremel 4000-2/30 High-Performance Rotary Tool Kit
This is the most frequent choice for most folks doing the wood carving, and even though this Dremel wood carving kit is one of the best ones out there, there is a slight flaw that is hard to ignore on this device. First, the good sides of this tool – it comes with the best Dremel bits for wood carving, 30 in total, and 2 attachments that are of the highest quality. The tool body itself is super easy to use and the 360 grip zone makes it really comfortable. This is a corded tool, and it is one of the classic Dremel tools most people pick. This tool is very powerful, and it cuts wood and metal, while different tips are good for carving, polishing, and routing. Dremel 4000, just like the other Dremel tools, comes with a two-year warranty, which is always a plus with this manufacturer.
The downside, however, is quite annoying. The thing is that the accessories used for this Dremel are all 1/8″-diameter shanks. Most other accessories that Dremel sells also use this size, but some might use 3/32″, 1/16″ or 1/32″ shanks. When I received this model, it turned out that none of the included 1/8″ shanks would actually fit into the collet. Firstly, I thought that the Dremel 4000 came with the collet that is the wrong size. When I opened it up, it turned out that the collet had been jammed into the collet nut, closing down its diameter so that the shanks wouldn't fit. I managed to unscrew the collet nut and push the collet out of the back end of the nut, which fixed the problem and the shanks can now fit. This is a small, solvable problem, but the thing is, if you are already buying this bad boy and paying over $80, you kinda want for it to work smoothly.
Great power, and a very durable tool.

Comfortable 360 grip zone.

Can cut and curve into nearly anything, and you can achieve great precision despite the high power.

The two-year warranty.
The collet can get stuck for the shanks to attach to it.

It costs more than other tools on this list.
To Sum Up
The collet jam is quite annoying, to be honest, but when I consider all the things about this product – great power, speed range, comfort, I consider it an all-time good investment. This Dremel 4000 is a bit more expensive, but it will last very long without having to change the engine or other parts.
WEN 2305 Rotary Tool Kit
This toolkit is one of the kind. It is equipped with fancy features, such as the display where you can control the speed, and the motor itself is quite powerful for tough work. WEN is becoming a more and more trusted brand of good quality tools, and this model is one of those. The flex shaft is great, with this one I didn't have any problems carving the wood with precision. It has 4 attachments in total, and 61 accessories, which enable you to do a lot of DIY projects with all kinds of material. Most Dremel accessories are compatible with this tool, so I can easily do a bunch of various projects with the bits I have from my Dremel set. Unlike Dremel though, the price is fairly reasonable, around $50, and there are cheaper sets available such as WEN 2305 Rotary Tool Kit with Flex Shaft, which is lacking the fancy screen but it is a great machine overall. That one is available for a little more than $30, and it is worth every cent. Of course, this machine can fail you as well, but the manufacturer will replace it since there is a two-year warranty on their products. That, on itself, usually tells me how good the tools are. The toolkit also comes with a manual, in case you want to know how to use electric wood carving tools.
Excellent flex shaft, good for precision work.

A powerful motor at different speeds.

The LCD screen to oversee the speed.

The two-year warranty.
Not sure if there are any. So far I'm pretty happy with this choice.
To Sum Up
A great toolkit. This manufacturer produces cheaper versions that are only cheaper because of fewer attachments, or lack of the LCD screen, but are just as good as this one. It could be better if it was cordless, but that is just my personal preference. If you are used to Dremel tools, consider Tack-Life the next time you are purchasing – you can save a few dollars, and get the great rotary wood carving tool that you can use all the Dremel accessories on.
Foredom K.5240 Woodcarving Kit
This bad boy is not really in the competition with the above-mentioned toolkits. I am a fan of Foredoom tools, and I use their wood carving and whittling knives a lot, so I had no doubts that their wood shaping power tools would justify my high expectations. It is a mind-blowing set for professional woodcarvers, and it is a purchase of the lifetime (it costs that much, also). Foredom power carver is probably the best rotary tool in 2021, and it is a good investment this year, when my woodcarving passion is becoming way more than a hobby. For over $300, you expect the best power chisel for wood carving, and this is what you get with this Foredom electric wood carving kit. This motor has more power and top speed than the other motors combined. It does the job with ease and it is the most enjoyable tool on the list. The bits are not as easy to swap like with Dremel and Tack-Life, but the performance is so much better.
The most powerful motor works smoothly at any speed.

Amazing for any type of wood, rough and precision.

It will last forever.
It's more expensive than any other tool on the list, but still worth it.
To Sum Up
Foredom tools are the best power wood carving tools, and they cannot be compared to any other manufacturer. They are expensive, but very much worth it, and the perfect investment if you are looking for a tool to level-up your game and wood carve professionally.
Final Thoughts
The most affordable manufacturer on the market is WEN, no doubt there. With WEN 2305 Rotary Tool Kit you can save a few dollars, while having a solid tool in your arsenal.

Professional carvers, however, usually go for Dremel tools. They are a bit more pricey, but they are usually more durable as well, and worth the money.

Don't forget to check the reviews for each tool to learn more about the power of the engine and the quality of the bits that come with the toolkit.
These are my power carver reviews for what I think are the best electric wood carving tools. Each of these rotary carving tools for wood has excellent advantages, however the best value is Tack-Life Rotary Tool Kit 1.8 Amp Power with LCD Display, and I would recommend it more than the Dremel wood kit. It has the same features and it is a very durable tool, so if you are looking for a corded electric hand held wood carving tool, this is my go-to toolkit. Cordless rotary tools are the next era of electric wood carving, and the winner in this category is the Dremel 8220-1/28 12-Volt Max Cordless Rotary Tool Kit. The plus with this choice is that there are many tutorials on how to use a Dremel to carve wood, so the beginners will have much fun in using this toolkit with a promising battery life. I hope you enjoyed my power wood carving tools review, and my journey in finding the best rotary tool for wood carving.