If you are new to pyrography, wanting to find out what are the best wood burning tools, you've come to the right place. In...
If you are new to pyrography, wanting to find out what are the best wood burning tools, you've come to the right place. In this post, I've shared my wood burning tool reviews with an emphasis on the best wood burning kits for beginners.
Wood burning or pyrography is an art form that includes etching beautiful designs and patterns onto the piece of wood with a burner – pyrography pen. This is a great way to express your creativity, but it can also be both dangerous and challenging if you don't have quality wood burning pens.
I began to learn about this art with a pyrography starter kit and I am using it to make my carvings special and unique at the end of my projects. The interesting thing about pyrography burners is that they can also be used on other materials such as leather, paper, or cork. They can be a lot of fun to experiment with.
In this post, I will only share wood burning tool reviews highlighting the best wood burning kit for beginners. If you are interested in finding out more about the wood I use for carving, you can check out my post What is the best wood for carving. Recent articles regarding more tips on wood carving you can look up on my blog are Top 6 Carving Axes & Hatchets in 2021 and Morakniv knives for wood.
Because a good tool and a full kit is everything, check out my new reviews on the Best wood burning kits for professionals – Wood Burning Kits For Professionals
When I write a wood burning tool review, there are some main features of the tool I consider to be most important. First of all, how easy it is to use. Because let's be honest – if it can achieve great temperature, has great tips, and can be used on different materials – but it is heavy and impractical and I have hand fatigue – it is not a good tool.
So, my main criteria are if it is comfortable in my grip and if it's not too heavy to make my hand tired after a few minutes. The second important thing is the temperature. Not all tools can achieve the same temperatures, and this is very important because some tools can only be used on a certain material as every surface requires to be treated to a different degree.
Some tools offer the possibility to control the temperature, and this is a good thing because then I can use it on different types of wood and additionally on leather as well. Furthermore, I consider the type of pyrography pen and what accessories it comes with. The tips of the pen are essential because they dictate what kind of project can you do with the tool. Wood burning tools can be used for etching, engraving, shadowing, stamping, and there are different styles that each require a special addition on top of the wood burner pen.
Last, but not least, the price of the tool or the kit. If you plan to buy a wood burning beginners kit to try it out, and you are not sure if you will continue to use it in your craft in the future, then it is not a smart idea to buy the most expensive set of tools. On the other hand, it is not a good choice to buy the cheapest tool you find because if the quality is bad since you are not only submitted to potential injury but you will not get into this art if it is a struggle to do it with your first tool. This is why a beginner wood burning kit should be the best value between the price and the quality.
Wood Burning Kit by Chandler Tool – Wood burning art kit for beginners on softwood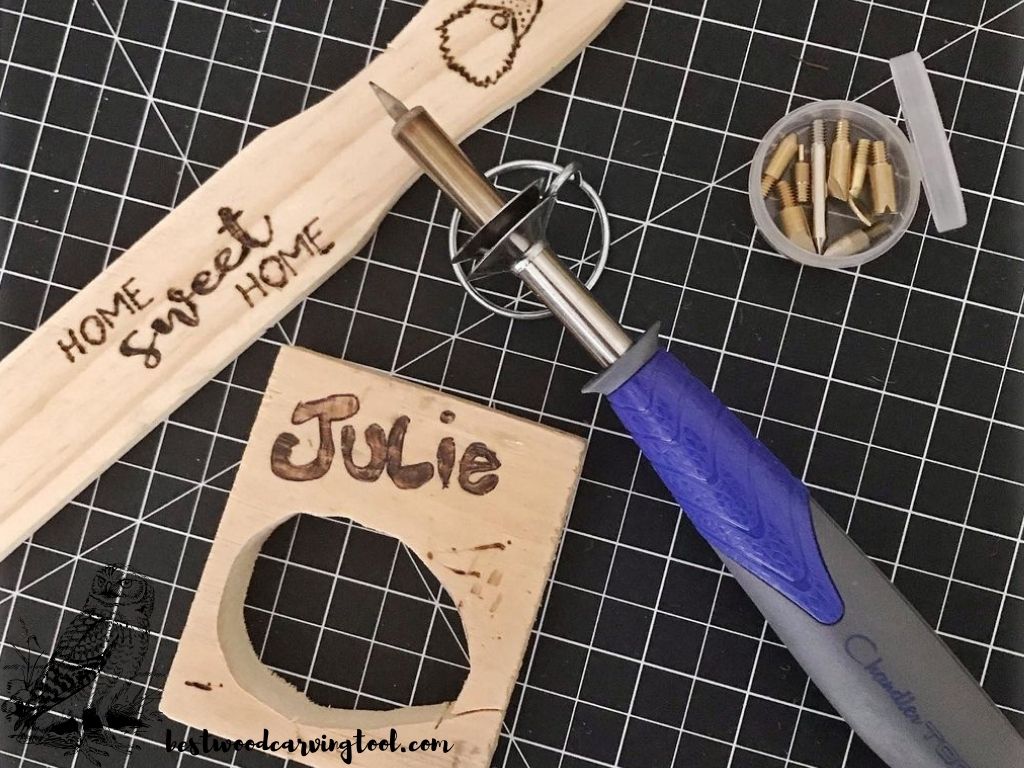 This is a very elegant tool with many accessories and even a metal stand for the tool comes in the package. It is designed for beginners who wish to do this art more professionally, and the manufacturer has also invested some time to prepare an e-book and tutorials for etching and engraving with this pen.
The pen has interchangeable tips, 9 in total, including the mini flow point, dot point, and shading point. It is designed for you to try out many different projects and learn the essential techniques of using a wood burning pen.
It achieves consistent high heat, and it cannot be used on any material other than wood. Softwood is easy to burn with this pen, but hardwood is more challenging already.
It comes with a set of accessories and it is easy to use for a beginner.

It reaches a high temperature fast and softwood can be burned easily.

Interchangeable points are handy to experiment on different projects.
It is not very easy to use on other materials.

Not the best tool for hardwood projects.
To Sum Up
For a wood burning tool for beginners, this is a sweet deal. The set has multiple tips to try out what the effects of each of them are. This etching tool is designed to be applied on softwood and it is not the best fit for other materials.
Powza, 72Pcs Wood Burning Kit for Beginners – Playset for different burning projects
This 72 pieces set is a cheap wood burning tool kit considering what comes with the pen in the set. It is good for beginners because it comes with a set of templates and it slowly introduces you to this art form.
The temperature this pyrography tool can achieve is high enough that you don't need to apply any pressure on your wood surface when using it. The 23 tips enable you to do various projects, and temperature variations that you can control are a great add-up to this tool.
This beginner detail wood burning tool comes in a metal box where you can store it, along with the tips that it includes in the package.
A high number of tips and accessories.

Adjustable temperature for multiple project types.

Comes with templates for beginners.

Has a nice metal box for safekeeping.
The burning tool for wood is not of the best quality for professionals.
To Sum Up
This is, without a doubt, one of the largest sets in terms of tools you receive with the pen. Aside from the various tips, you can also adjust the temperature and work on different projects and materials. The price is very generous considering what you get with the burning pen.
Walnut Hollow Creative Woodburner Introduction Value Pen for Beginners and Intermediate Woodburners – A good first-buy option for newbies
This is a cheap wood burning toolset that is recommended for newbies who are doing one project and only discovering what pyrography is all about. It is also a handy part of a wood burning kit for kids because it is very easy to maneuver.
It comes with 4 nibs to allow some flexibility in the project. The burner gets hot really fast unlike some other tools, which is a great plus.
If you try to use it on leather, beware because this tool achieves high temperatures and you cannot control it or reduce it so you can easily go overboard with burning.
Even if this is a wood burning tool for a beginner, if you decide to continue doing this art and purchase a more challenging tool, this one can always become a spare one in case something happens to your go-to choice and it needs to be fixed.
It achieves a high temperature fast and it is easy to use on wood.

It comes with 4 nubs and it is designed for beginners and kids.

Comfortable to grip, light, and easy to control.

Among the cheapest burning tools you can find.
It doesn't fit the projects with materials other than wood.

There is a limited number of tips and projects you can do with it.
To Sum Up
This is possibly the best wood burning kit for a beginner. It is cheap and handy, good to get a feeling of etching from it and it is also suitable for kids. If you are only experimenting with pyrography tools for the first time, then going for a cheap wood burning kit is a good option.
INTLMATE, Wood Burning Kit, 54 PCS – An ergonomic pyrography pen for full control
The shape of this wood burning tool pyrography machine is excellent for anybody's grip. The body of the pen is thin, protecting your fingers from the heat, and very easy to control with great precision.
It has an ergonomic design, and it weighs nothing compared to some other tools. It heats up very quickly and cools down just the same. It has a total of 32 tips for carving, etching, engraving, and other burning types.
The pyrography wood burning pen kit comes with stencils for you to get used to the tools before you start drawing freestyle on your carvings. It has a soft carrying case included, and you can control the heat for additional exploring.
An ergonomic, thin pen with a comfortable handle that enables additional control.

Lightweight, easy to use even if you draw with the burner directly to the wood.

Temperature can be adjusted.

32 tips enable you to do multiple projects.
It is not safe to use for a longer period of time at once.

It is a little bit overpriced compared to the quality of the tool.
To Sum Up
Even though the benefits of using this tool are many, it is important to say that this tool is not designed to be used for many hours at once. The contact between the pyrography pen and the tips is very sensitive and can damage easily.
Walnut Hollow Creative Versa Tool with Variable Temperature Control for Woodburning, 11 Points – A high-quality tool for maneuvers
This tool is both suitable for beginners and professionals. The pen is designed to be easy to hold and it enables quite a lot of control over the tip of the burner.
The handle is covered with an insulating shield that protects my hand from the heat and makes me feel safe to use it. This is a lightweight tool and my hand is not getting tired from using it.
The kit includes 11 different tips (such as calligraphy tip, tapered tip, shading nib, mini flow point), and all things considered, it is offered at a really fair price.
This is a high-quality wood burning pen because of one more thing. It has a temperature control knob on the cable and you can experiment with a variety of combinations between different temperatures and pen tips.
A good selection of tips for different types of projects.

It can be used on materials other than wood, such as leather.

The temperature can be adjusted.

It is comfortable to grip and the tool weighs very little.
It takes some time for it to heat up and cool down.

The temperature controls are located on the cable and they are heavy so they can pull the tool down.
To Sum Up
When I take a look at all that I am getting for this price, this is a very good beginner wood burning kit. If pyrography is something you are interested in doing in the long run, then I can recommend this tool as it offers plenty of possibilities for different project types.
TRUArt Stage 1 Wood and Leather Pyrography Pen – A professional art set for wood burning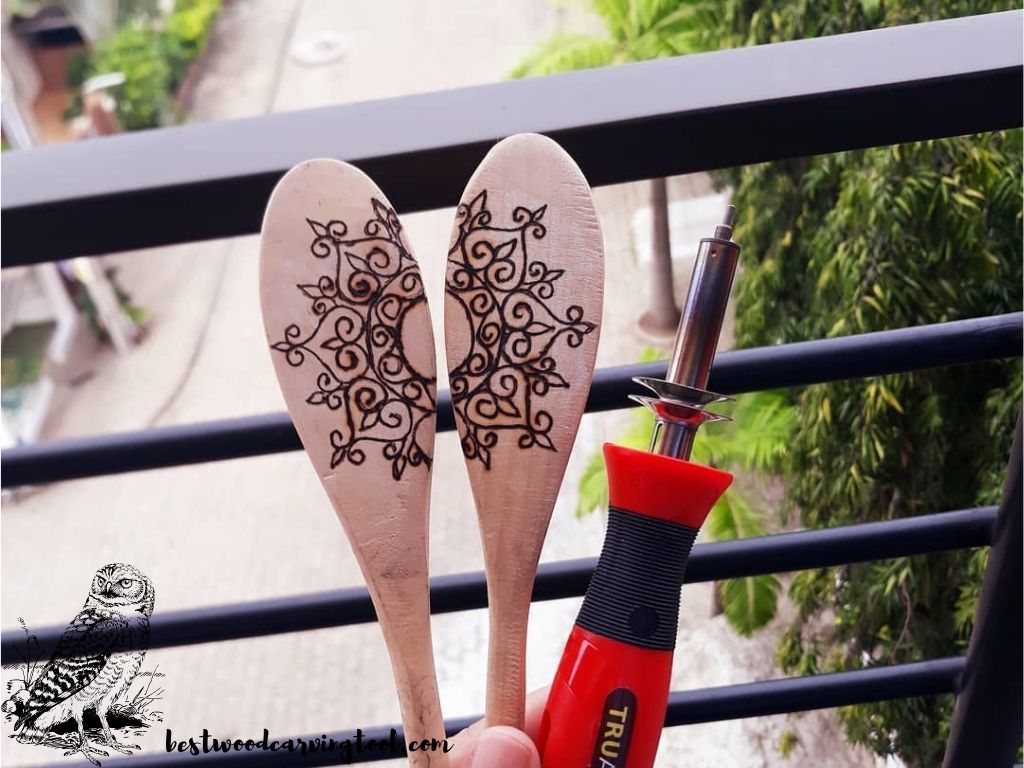 This is a specialized tool that is not really designed for beginners nor for kids. It can achieve a temperature twice as high as most of the other tools on the list, and the body of the tool is designed for professionals to hold.
The heat can be adjusted and there are 21 tips to use with it. The wood burning tool comes in a hard case for safekeeping. It also includes detailed instructions on how to take care of the tool and how to clean it, which is a nice touch.
However, this tool is not very easy to hold and it takes some time to get used to it and achieve control over the tip with it. This is a professional tool, and it is not cheap at all, so think twice before you decide to start burning with this pen.
A tool for experts, it can achieve a very high temperature.

Temperature can be controlled for it to be used on wood or leather.

It comes with different tips and a hard case to store.
The handle is wide and uncomfortable to use.

It is quite expensive for the first buy.
To Sum Up
This is not the wood burning starter kit for wood carvers, but it is what you want if you will pursue this art form. It is a durable tool, and even though it is not cheap, it will make its worth in the long run.
To choose the woodburning tool you will use for the first time, you must consider several factors. If you are only looking to explore and give this hobby a go, then investing a lot into high-quality tools can be a bad decision. However, if you need a good toolset to use for a long period of time, you will not regret making a smart investment even if it's a little pricey.
My personal choice for the best beginner tool is Walnut Hollow Creative Versa Tool because it is not too expensive, yet it can last a long time. Adjusting the temperature is an important factor, and this wood burn tool offers that for a fair deal.
The best wood burning tools are those that are convenient to use, and that must be feature number one in the decision-making for you. Wood burning tool reviews can help you learn what happens if you try using the pen for a couple of hours and see what are its downsides.
The best wood burning kits for beginners should also include a variety of tips so you can try them out and a set of instructions on how to use the burner pen right, without too much pressure that can damage the tool and ruin your work.